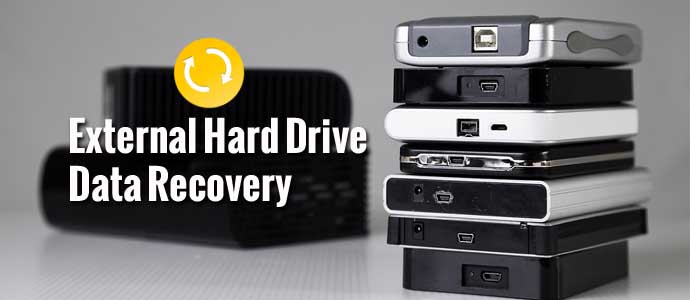 What could be worse than accidentally deleting data from our external hard drive? No matter what type of data we delete, we normally want to recover it, which can be quite a challenge. It is common today to use an external hard drive for storing data on computers.
Using an external hard drive, you can backup important data and take advantage of a larger storage capacity. It is convenient using an external hard drive, because it can carry with you wherever you go.
The only problem appears when you accidently delete data from your external hard drive. Because it is impossible to find the deleted folders in the Recycle Bin, you need to find effective ways for external drive data recovery, which cannot always be easy.
When you delete files from an external hard drive using Delete key or Shift-Delete keys, the files will not go to Recycle Bin. Also, they will not be permanently deleted, which means there are chances for you to recover them. So, it is possible to recover data from an external hard drive.
Once you lost data, stop writing new data on your external hard drive, because you will be able this way to prevent overwriting the original data. Since you have precious information on your hard drive that you don't want to lose, make sure you keep your device in a safe place, to avoid any physical damage.
You can use a read-only data recovery software based on Windows, if you want to restore the deleted files. There is software that works on Windows XP, Windows 7 or Windows Vista operating system. So, you need to find a file recovery program, whether there is a paid, or a free program. Among the programs you can use for free you can find Puran File Recovery, Glary Undelete, Recuva and Restoration.
Next you have to download and run the program. Once everything is in order, let the program know what types of files you want to recover. Some programs may ask you where to scan, so if you want to recover the files from an external hard drive, make sure you select the correct driver.
It is not working every time to recover your lost data from an external hard drive with a free program. In a situation like this you can still recover your data, but by using a paid software. There are various professional programs that can help you.
It is important to find the right one for you. Alba Data Recovery is known as a professional solution for the most complicated cases of data loss, whether it is on an internal or external hard drive.
Eventually we lose important data, like personal or business information, no matter how hard we try to avoid it. Accidents are common these days, but we are lucky enough to be able to restore the lost data, just by using a special designed software, free or paid, depending on the situation.