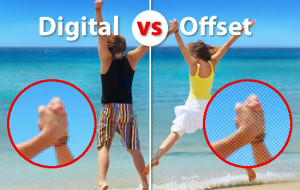 When it comes to offset and digital printing, there is no question which one is better. It is best to ask which is more suitable for the type of printing job you want to realize.
If you discover it is more convenient to use digital printers, you can still offer you clients offset printing services, without any buying any equipment.
How is it possible? All you have to do is to own an offset printers database. Once you got one, you can choose the perfect company you want to associate you, in order to improve your services and satisfy your customer, without any further investment.
Offset printing is recommended if you want to print a large quantity with reduced costs. It is perfect for more than 500 units of print quality and perfect format, but also for special colors and techniques. The cost per unit is lower as the print quantity is bigger. Also, it offers a higher image quality, with a great resolution, especially if it is combines with CTP.
Another advantage of offset printing is that can be used to print on a wide variety of surfaces, such as leather, plastic, paper and wood. A disadvantage is that one you send your project to press is difficult to make any changes.
The digital printing is perfect for projects for projects that must be completed very quickly, because it is fast. It is recommended only for a low quantity of units, if you want to be less expensive. Unlike offset printing, if you want to print a large amount of units, it will cost you probably more than you wish to.
When using digital printing can be made changes and revision easily, in short time, even if you sent your project to print. Also, the printing process is realized as easy as possible, because there are no mechanical steps you have to follow. Te computer will help you do the work simply.
The best way to find out if you need offset or digital printing is to consider the workload. Ideally for you is to target the cheapest and most productive printing method for you. Of course, remain the variant to opt for both. There are successful companies that use both the traditional method of modern printing, depending on the situation.
Another possibility is to associate with printing companies when is necessary. If you do that, you will manage to keep up with the competition, but also with your clients' request. The best way to improve your services when you do not have the necessary equipment is to ask the help of other companies that have all the possibilities.
With an offset printers database, everything is easier. You can find out the names of your competitors or the name of the company that can become your associate. Sometimes, this kind of collaboration is a win situation, which means if profitable for both sides. More information about a database you can obtain by visiting the website http://printing-companies.org/offset-printers-database/ .